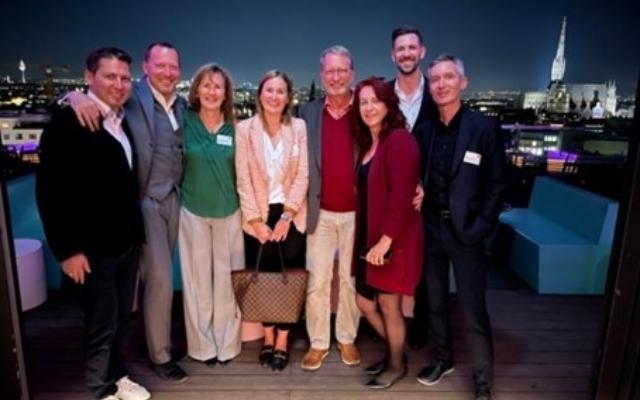 Picture: from left to right: Gerald Steiner (Gaia-X Hub Austria), Tobias Höllwarth (Gaia-X Hub Austria), Brigitte Barotanyi (Federal Ministry of Finance), Karoline Angerer (Federal Ministry of Finance), Georg Hahn (Gaia-X Hub Austria), Brigitte Lutz (Gaia-X Hub Austria), Christian Tauber (Gaia-X Hub Austria) Mario Drobics (Gaia-X Hub Austria);
Photo credit: © Gaia-X Hub Austria
The very successful annual congress of ICT-Austria took place on 4 October. Digitisation and sustainability occupy many companies, and it was precisely under this motto that particularly successful projects were honoured at the event.
Jochen Borenich (President ICT Austria) pointed out in his keynote that for more sovereignty, a focus on regional value creation must be placed. State Secretary Florian Tursky emphasised the great importance of the topic of "trustworthy data exchange" for successful cooperation between companies. After all, data is the new oil of digitalisation and opens up new possibilities for business models.
Roland Fadrany, COO of the Gaia-X Association, then provided an overview of the large pan-European Gaia-X project and its contribution to sovereign data exchange. Enclosed is a reference to the framework for all descriptions.
Finally, Christian Tauber, member of the management board of Gaia-X Hub Austria, presented the Austrian Hub and described its role as a catalyst for a successful data economy. We as the Hub would like to thank ICT Austria for the invitation and the successful event. A video of the event is attached.
The winners were presented with the "Digital Jewels Award". We congratulate all the winners!
💎 𝗔𝗠𝗔𝗚 (Representative: Werner Aumayr, CIO)
With ICT Member: ACP/ACP cubido (Representative: Wolfgang Ennikl, MBA, GF)
💎 𝗘𝗩𝗩𝗔 (Representative: Dr. Florian Pauker, Project Manager Digital Operations)
With Member: K-Businesscom (Representative: Roland Ambrosch, Head of Digital Factory)
𝗙𝗶𝘅 Gebäudesicherheit und Service GmbH (Representative: Robert Punzenberger, GF)
With ICT Member: Workheld (Representative: Christine Geier, COO)
💎 𝗚𝗲𝗿𝗶𝗮𝘁𝗿𝗶𝘀𝗰𝗵𝗲 𝗚𝗲𝘀𝘂𝗻𝗱𝗵𝗲𝗶𝘁𝘀𝘇𝗲𝗻𝘁𝗿𝗲𝗻 Graz (Representative: Stefan Windisch, Head of IT and Organisation)
With ICT Member: ilvi (Representative: Elke Zens, CEO)
💎𝗜𝗻𝗻𝗼𝘃𝗮𝘁𝗶𝗼𝗻𝘀𝘇𝗲𝗻𝘁𝗿𝘂𝗺 𝗪.𝗘.𝗜.𝗭. (Representative: Roman Neubauer, GF)
With ICT Member: COPA-DATA (Representative: Frank Dörner, Area Sales Manager)
💎 𝗞𝗲𝗹𝗮𝗴 (Representative: Alexander Bachler, Data Analytics & IoT Engineering)
With ICT Member: nexyo (Representative: Andreas Krimbacher, CTO)
💎 Ö𝗕𝗕 (Representative: Thomas Petraschek, Head of R&D)
With ICT Member: VRVis (Representative: Stefan Schmied, Innovation Management)