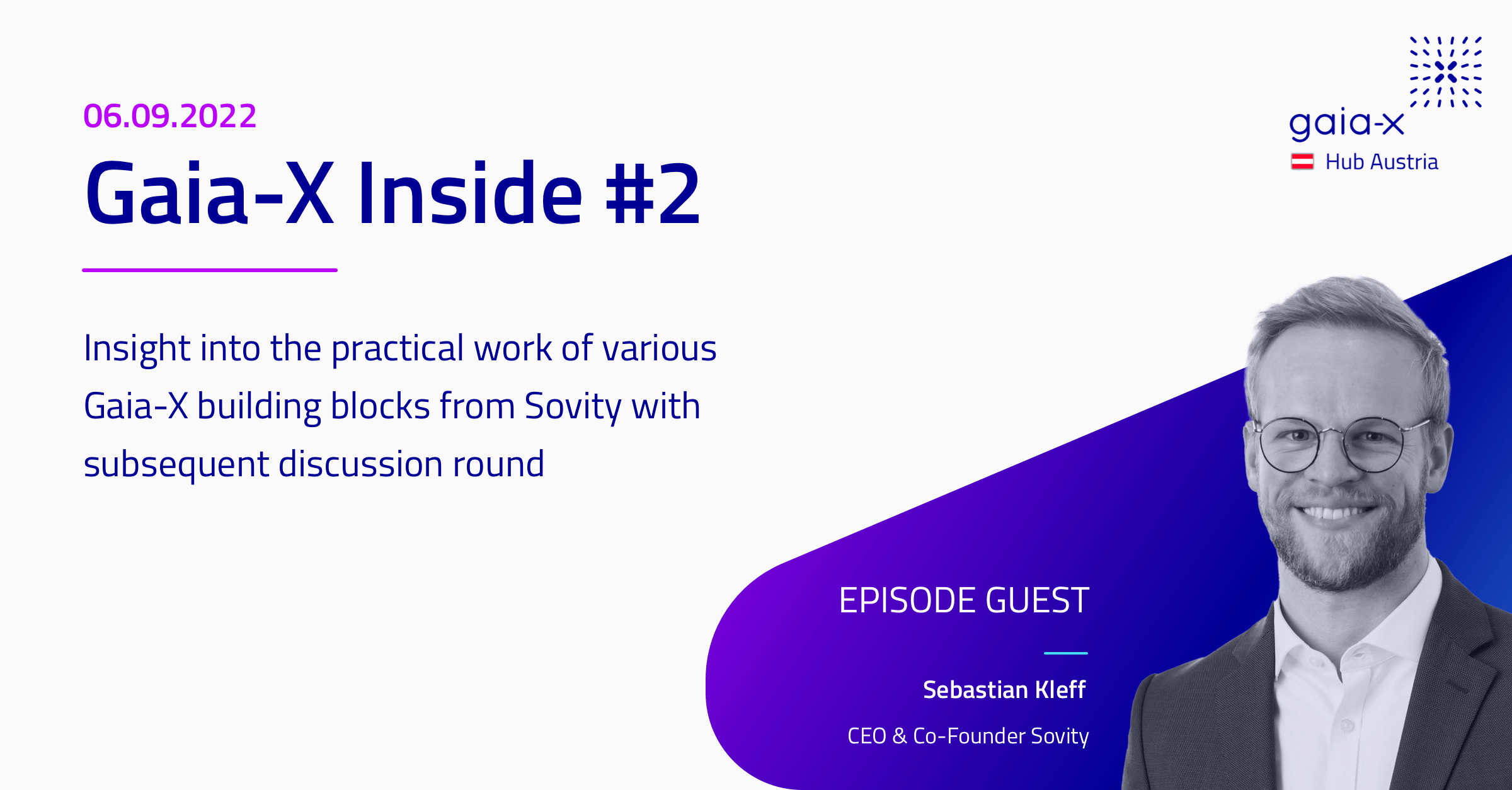 How to build data spaces
The Gaia-X project is being driven forward by numerous representatives of the European business community. Gaia-X can also play a strategically important role for Austrian companies, especially in the manufacturing sector.
For this reason, Plattform Industrie 4.0 has initiated the "Inside Gaia-X" event series, which regularly takes a closer look at various facets of the project. In conjunction with the activities of the Austrian Gaia-X Hub, interested individuals and companies are given a low-threshold introduction to the topic.
In September 2022, the second "Inside Gaia-X" event took place. The topic was data spaces, which are an essential element of data exchange in a value network.
As an expert on the topic, Sebastian Kleff from the German company Sovity presented his perspective. Sovity is a startup that specializes in data exchange and the creation of data spaces.
DATA EXCHANGE VS. DATA SPACE
Data exchange between companies is not a new topic. Companies share numerous data with each other, whether via e-mail or USB, via automated interfaces or ERP systems. Global supply chains and the manufacture of complex industrial products would not be possible today without data exchange.
However, data exchange alone does not make a data room. A data room describes the relationship between different players who have agreed on standards and guidelines for handling their data. It is important that data is not stored centrally (e.g., at a company essential to a supply chain or at the OEM).
CORE ELEMENT CONNECTOR
To enable collaboration in a data room, a connector is needed.
A connector is software that operates as an interface on the data sets of different companies. A connector connects a company's data to the data space while ensuring the company's control over that data.
In recent years, various connectors have been developed to enable data spaces: The best-known connectors include the "Data Space Connector (DSC)", which is used, for example, in the Mobility Data Space, or the "Eclipse Data Space Connector (EDC)", which is being advanced as part of the Catena-X project.
There are application-related differences in the individual connectors, but mutual compatibility is the goal. The orientation of the various connectors to the reference architecture of the International Data Spaces Association (IDSA) helps here.
WHAT NOW?
But how does the dream of a data room become reality? The connectors are available as open source software, other software building blocks (such as Gaia-X Federation Services) exist and can be used. Companies with interest and IT expertise (e.g., Java and Kubernetes) can read in and build a data room.
However, for many companies, IT resources are a scarce commodity. This is where Sovity's business model comes in: Sovity helps companies build a data room and deploy a connector. For Sovity and IDS-compliant data exchange, Sovity has also built its own platform that makes it easier for companies to use the aforementioned components.
In a live demonstration, Sebastian Kleff finally illustrated how the platform works.
THANK YOU AND OUTLOOK
We thank Sebastian Kleff for the insights!
The Industrie 4.0 platform is implementing further activities and events on Gaia-X. If you would like to stay informed about this, please feel free to contact michael.faelbl@plattformindustrie40.at.