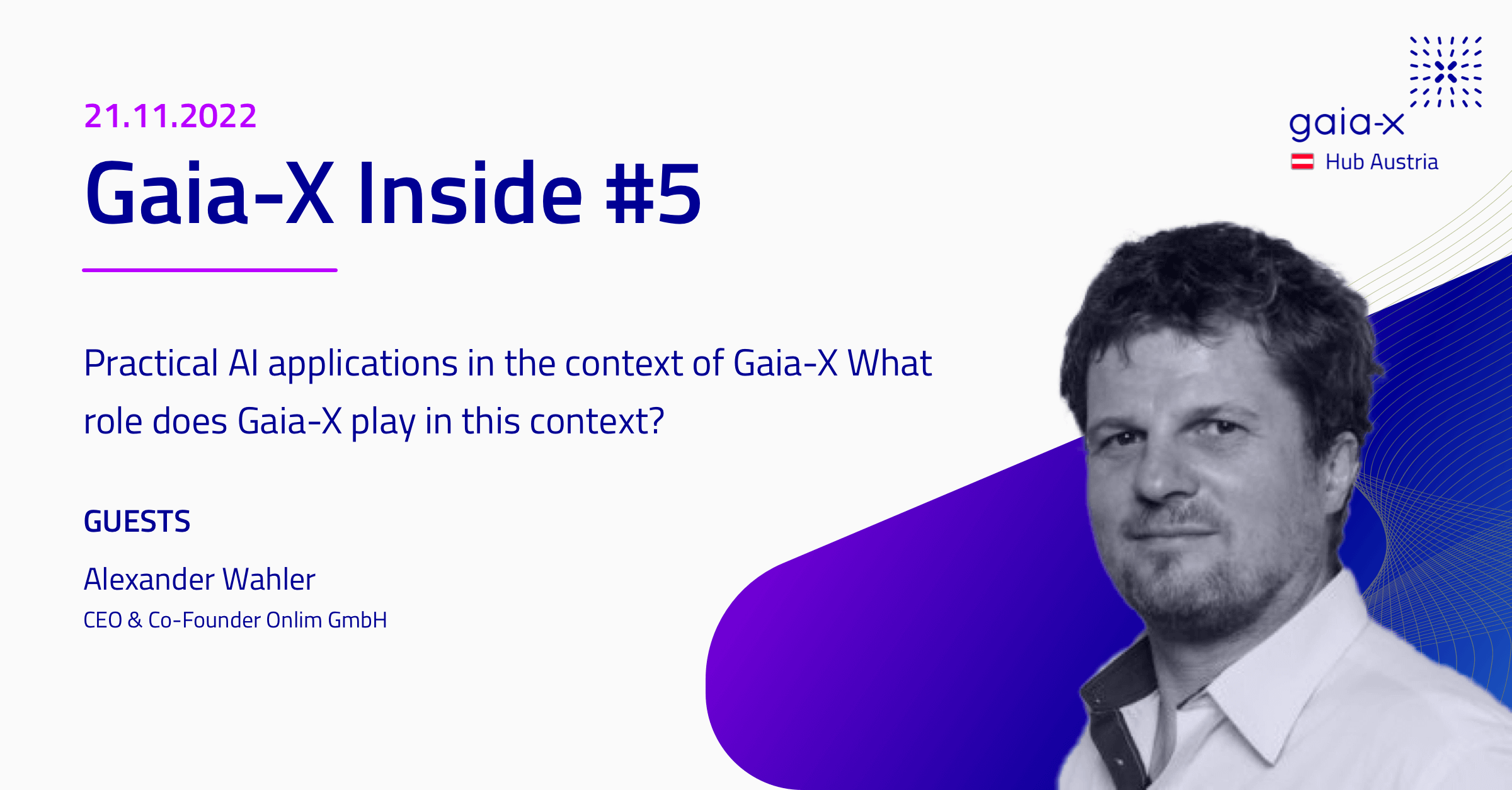 PROCESSING DATA TO KNOWLEDGE VIA KNOWLEDGE GRAPH
Data can be stored and prepared in different ways. Different models and architectures can be used. For manufacturing companies with limited IT resources, IT standardization is therefore becoming increasingly important. For software developing startups or SMEs, standards offer economic potential: their compliance can create trust and thus represent a differentiator.
Onlim is an Austrian company that develops software for data storage and preparation. For this reason, the company is involved with the evolving standards European initiative Gaia-X, among others. In an "Inside Gaia-X" event, Alexander Wahler, co-founder and CEO of Onlim, presented his company and his perspective on Gaia-X at the Gaia-X Hub Austria.
COMMUNICATION NEEDS KNOWLEDGE
Onlim specializes in the development of AI applications in the field of customer and corporate communication. The applications include, in particular, software for creating chatbots. Sensibly programmed chatbots can, for example, help to relieve customer service or support the sales department.
A good chatbot needs a sound knowledge base for its work. Making knowledge accessible within a company is an important prerequisite for AI-supported communication. But how is data now collected, processed, and connected as appropriately as possible?
The knowledge required for communication is provided by a knowledge graph. A knowledge graph is essentially a way of processing knowledge or a knowledge database. Data is captured taking into account its context of origin and usage. As in other data science projects, a high-quality knowledge base ensures the quality of the software based on it, e.g., the chatbot.
KNOWLEDGE NEEDS INFORMATION
Information is linked and represented in a knowledge graph. The more data that can be collected and mapped in the knowledge graph, the more helpful the potential derivations and results. For the most accurate, software-supported communication possible, e.g. via chatbot, the combination of different information sources (e.g. data from purchasing or production data) can thus be useful.
Using data across departments is often a challenge. However, if data is linked together, then many benefits can arise from this. An example: a production plant consists of various pipelines, fittings, measuring instruments and valves, which are represented in a piping and instrument flow diagram. This P&I schematic is used to maintain the plant. Such an R&I scheme can also be set up as a knowledge graph.
The inclusion of different data can speed up the flow of information, optimize decisions and thereby reduce costs. Depending on the required specifications (data from production), on the intended lifetime (data from the manufacturer), on the availability of replacement valves (data from the supplier) and on the price (data from purchasing), the ordering process of valves could be automated, for example.
POTENTIAL IN THE CONTEXT OF GAIA-X
A knowledge graph can thus also include external data (e.g., manufacturer, supplier). This is where the concept of the knowledge graph overlaps with the idea of data spaces. Companies that cooperate with each other in a data space could combine different data sources and set up a common knowledge graph. Onlim is currently working on such a data space within the framework of datahub.tirol – with the help of a knowledge graph, the services offered in the data space should become easily searchable.
Standards such as Gaia-X can improve cross-company data exchange. Common rules and software components are being developed around Gaia-X. These are intended to create trust and ensure data security during data exchange. The use of the software should speed up access to external and internal data. A common vocabulary or semantics (e.g., on self-descriptions and metadata) should simplify the linking of data.
In conjunction with other standardization efforts, e.g. the management shell in mechanical and plant engineering, the Knowledge Graph may represent an important tool for industry in the future.
THANK YOU AND OUTLOOK
The points described build on Onlim's presentation at the "Inside Gaia-X" event, among others. Thanks to Alexander Wahler for the input!
Plattform Industrie 4.0 is continuously working on further activities and events related to Gaia-X. If you would like to stay informed about this, please feel free to contact michael.faelbl@plattformindustrie40.at.